Welcome!
Hello tap lovers! This website is a 100 % for tap dance !
SHOP > we're open: Tuesday to Saturday 16h30 to 18h30
SCHOOL: the season is on!
For all of you tap lovers from all over the world : Rendez-vous at https://victoronline.swingtap.com, the new website for practising and learning more about TAP DANCING !
Check it out right now, one trial week ABSOLUTELY FREE !
Large choice of quality tapshoes!
All our models are fitted with toe AND heel taps. Children's tap shoes from 19,95 €, 100% leather from 25,95 €
The Victor Cuno Family Show
Victor, Stéphane, Marius & Zazie,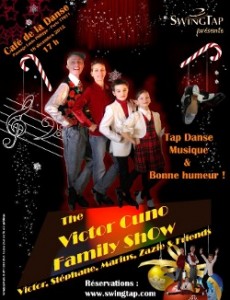 the whole family on stage! All tap and each one plays at least one instrument… Coming up: our next show in Paris !
Get an idea of Marius and Victor
notre programme > The Victor Cuno Family Show
Tap-training
!!! new !!!
for your tap-training
Small booklets for free download!
short videos: technique / rhythm / combinations
Have a look: category > tap-training – books & videos
Tapdance classics & legendary dancers
In this category you'll find many famous tap routines, analyzed step by step, as well as complete research documents about tap styles and dancers
available as PDF download right now!
downloads are very practical: buy them and get an immediate link for downloading. Print whatever you need today or just read through!
just register and get the famous Shim-Sham for FREE!
Just a few examples of documents that might interest you:
Tap Dance Classics N° 2a – Singin' In The Rain" – ALL OF IT! The complete tap edition: all the routines of the famous film, analyzed Step by Step by Victor Cuno.
Tap Dance Classics N° 5 – "B.S.-Chorus for Rhythm-Dancers" Eddie Brown (afro-american Rhythm-Tap) + 2 famous routines: "Up-To-The-Front" (3 chorus-routine) and "Highland Fling" (fast 2 chorus-routine)
Tap Dance Classics N° 9 – "Begin The Beguine" & "Juke Box Dance" – 2 absolutely great tapdance classics as choreographed & danced by Fred Astaire & Eleanor Powell for the film "Broadway Melody of 1940″. Analyzed Step by Step with an introduction by Victor Cuno
Tap Dance Classics N° 10 – BUSTER BROWN: LAURA. A great tap routine in the Paddle-And-Roll Style of the afro-american tradition.
Tap Dance Classics N°14 – The Nicholas Brothers – Their famous routines from the 1930s. 120 p. Edited, commented and analyzed step by step by Victor Cuno
Tap Dance Research N°10 – The B.S.-Chorus. A tapdance research book by Victor Cuno (350 p). The famous afro-american routine with full documentation.
---